The TIL Approach
Texas Instructional Leadership is a program through which we provide training and support to campus and district leaders on their ability to build the capacity of educators that they manage. It consists of a suite of trainings intended to foster continuous improvement by helping campus and district administrators grow concrete instructional leadership skills in the areas of observation and feedback, student culture, and data driven instruction.

TIL trainings are aligned with many of the best practices described in the Effective Schools Framework, and ESCs that offer TIL trainings are among the approved vendors for schools seeking a technical assistance provider or capacity builder to support in the execution of a campus improvement plan.
Components of a TIL Training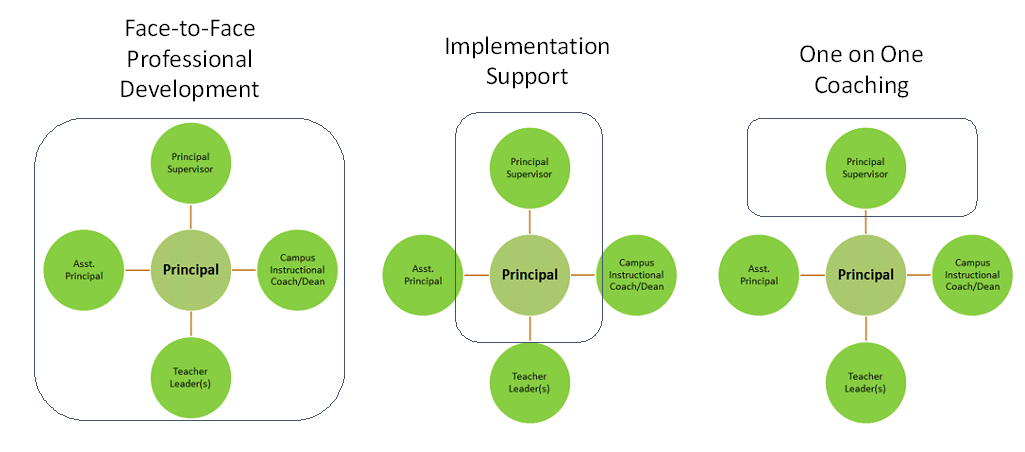 Face-to-Face Professional Development
Educational Service Centers across the state of Texas will be offering Action Coaching, Data Driven Instruction, and School Culture trainings for campuses and districts looking to increase student achievement overall, and close gaps between student sub-groups. As with many other trainings offered at ESCs, Texas Instructional Leadership trainings have a face to face professional development component. Campuses and districts that choose to participate in a training will be part of a cohort of campuses that will meet together learn instructional leadership best practices, and have an opportunity to practice their new skills together in a low stakes environment.
---
Action Coaching
Action Coaching is intended to provide campus and district leaders opportunities to develop proficiency in establishing and coaching toward effective instructional practices in every classroom.
Data-Driven Instruction
Data Driven Instruction is a highly effective, research-based training that guides teachers and administrators to spend less time teaching their students what they already know and more time on what their students need.
Student Culture
Culture is not formed by motivational speeches or statements of values. It is formed by the repeated practice of good habits.
Lesson Planning
TIL Lesson Planning is based on the work of Paul Bambrick-Santoyo in Leverage Leadership 2.0 and trains leaders how to guide their teachers to build effective daily lesson plans that will drive student learning, as well as how to monitor that planning to see which parts are working and which aren't, and how to coach teachers to master the skills they need to make their planning consistently effective.
Formative Assessments
TIL Formative Assessment is based on the work of Paul Bambrick-Santoyo in Leverage Leadership 2.0 and trains leaders how to guide their teachers to craft rigorous and aligned daily and weekly assessments that will support analysis of student mastery and gaps.
Implementation Support
Unlike many of the other trainings offered by ESCs, Texas Instructional Leadership trainings also include two additional training components beyond the face to face professional development. The first of those components is implementation support. Following face to face professional development, trainers will observe participants attempting to implement their new skills on their campuses or in their districts either virtually or in person, and provide additional tailored support to ensure the skills are applied successfully.


One-on-One Coaching
Following implementation support visits, trainers will coach district administrators on how to best guide principals toward successfully integrating the instructional leadership best practices on their campuses, as well as provide one on one support to shape district practices and policies to make the work more sustainable.


Evidence of Impact
"We piloted these practices in select districts across the state, and saw an incredibly positive impact on student achievement, particularly for campuses whose leaders trained with Relay Graduate School of Education or Teaching Trust, both of whom adhere closely to the practices on which TIL trainings are based."


Texas Instructional Leadership's approach was based on the exemplary training models of...
↑